Premier Dental Podcast Series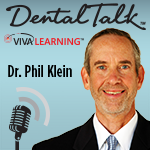 Series: Premier Dental Welcome to the Premier Dental series of VivaPodcasts. Top KOLs will address clinical techniques, new products and the latest research and development at Premier Dental.
---
All Episodes:
Expand Your Reach to Improve Oral and Overall Health
CE Credits: 0.25 CEU
Release Date: 10/12/2021
Dental podcast: Welcome to DentalTalk. I'm Dr. Phil Klein. Dental providers are now in a unique position to raise awareness about the oral-systemic link and gain recognition as an elite healthcare provider. But, in order to do that, we need to think outside of the box, use critical thinking and be open to new and innovative dental materials, services and healthcare delivery models. According to our guest today, Lancette VanGuilder, there has never been a better time to expand our reach as a dental healthcare provider and become a dental trailblazer! Lancette is a practicing dental hygienist for 26 years. She owns her own mobile dental hygiene company and she is a CE speaker here and abroad. She has been featured on many podcasts for her innovative approaches for improving access to care and elevating the provider and patient experience.