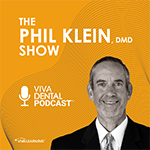 Series: Premier Dental
Guest: Dr. Richard Lipscomb Jr.
CE Credits: 0.25 CEU
Release Date: 5/4/2023
Dental podcast: Welcome to DentalTalk. I'm Dr. Phil Klein. Today we'll be discussing the use of digital and traditional impression taking techniques and how to make things easier for the dental lab, which ultimately results in less stress and a better restoration for the patient. Our guest is Dr. Richard Lipscomb Jr., a General Dentist and International Speaker, who lectures on Restorative and Dental Implant procedures. He is on the editorial advisory board for Dental Products Report and a Catapult member, who speaks and evaluates new products.
Please
Log in
to take exam and earn CE credit.